Date Completed
Summer 2017
Project Type
Parking Garage
Bevan's mural demonstrates that even an old garage can be beautified and help bring art to Detroit's neighborhoods.
Baltimore Garage is a 837 space parking structure 3 blocks south of the Fisher Building, which offers additonal parking options to neighboring office tenants. The Platform rennovated the structure in 2017 to provide structural repairs and the installation of new energy-efficient lighting, cameras, access system and safety phones. Internationally renown muralist WC Bevan, painted the Baltimore Garage mural as a nod to the city's automotive history with an art deco influence. Described as a focus on visual movement, imaginary architecture, and exotic rhythms, the mural is titled "Automatic Transmission".
Stage of Development
Pre-development
A developer sees an opportunity in an existing building or vacant land and tests possible ideas for development to determine if they should commit.
Design
The architect, along with engineers and contractors, collaborate with the developer to create a meaningful plan for construction.
Construction
The general contractor physically brings the design of the architect and engineers to life.
Leasing
The development is promoted to potential tenants who may be interested in leasing or purchasing available units.
Management
A property-management team manages the on-going daily operations of the development and the tenants.
Refinance
The owner may choose to re-finance or sell the developed property.
"Automatic Transmission" by muralist WC Bevan is a nod to Detroit's automotive history and art deco influence.
The structure is located on Baltimore St. between 2nd and 3rd Avenues.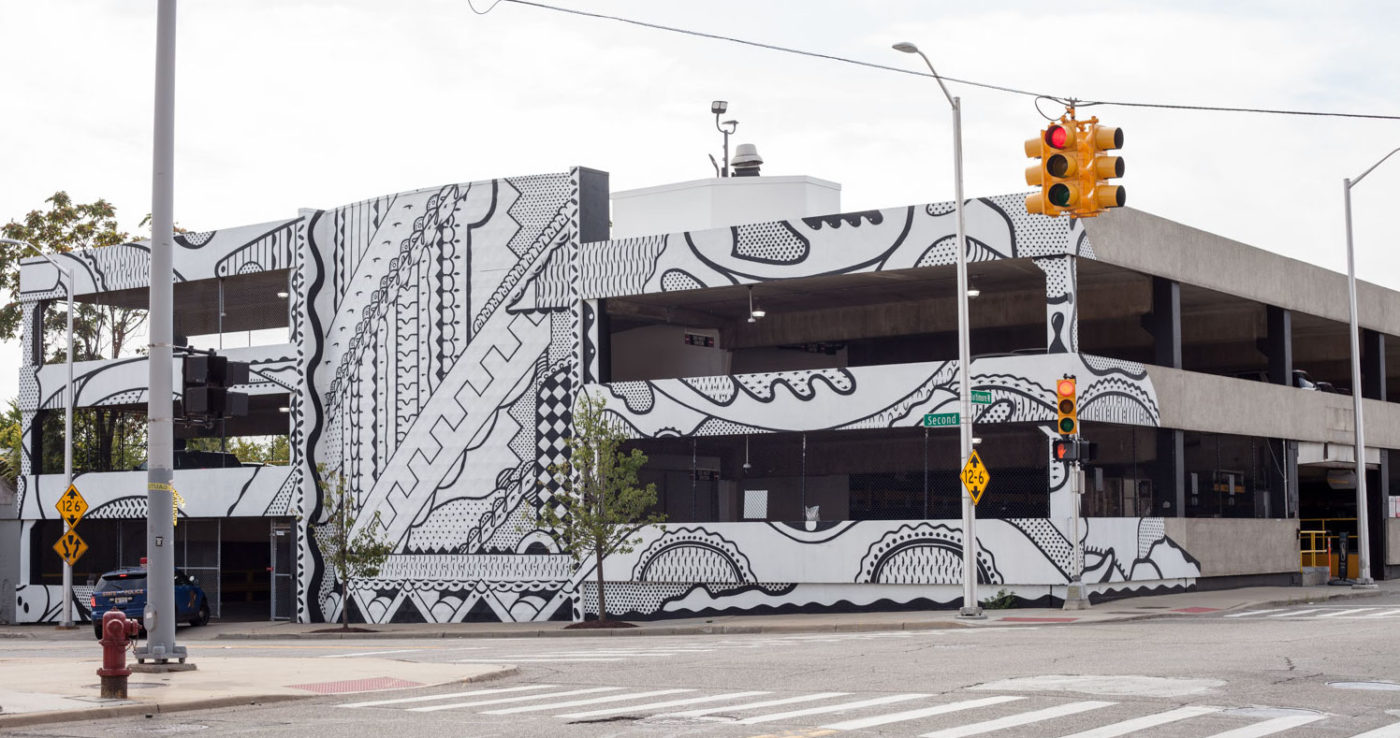 Baltimore Garage supports New Center office tenants with 837 parking spaces.
History: The Baltimore Garage was built in 1965 for General Motors when the company was headquartered in New Center.
Design Excellence: WC Bevan is an internally celebrated muralist with work in Memphis, New York, and Detroit. Bevan cites the influence of the surrounding architecture of New Center, particularly the rhythmic Art Deco patterns found in buildings like the Fisher for his work on the East and West walls of the garage along Second and Third Avenues.
In the Neighborhood: The Fisher Building, Fisher Theatre, Cadillac Place, Hotel St. Regis Detroit, Motown Museum, College for Creative Studies, Shinola Factory Headquarters, Henry Ford Hospital, Detroit Branch NAACP
Transit: Bus #023, 851; Q-line Station: Grand Blvd; MoGo Station: Second Ave & W Grand Blvd