Address
2911 West Grand Blvd.
Project Type
Residential & Retail
Construction Type
New Construction
The Boulevard, located at the corner of Third & Grand, is the first new construction residential development of its scale in New Center in the last thirty years.
The Boulevard is The Platform's first new construction mixed-use development. Sited next to the Fisher Building in New Center, it provides five floors of high-quality residential over ground floor retail. The Boulevard offers new housing options in a neighborhood of professional institutions and cultural gems. With its walkability and access to public transportation and major expressways, The Boulevard is home to long-term Detroiters, new residents, and visitors.
Now Leasing
The Boulevard offers 8,395 SF of available retail space and studio, 1- and 2-bedroom apartments at affordable and market rates.
Stage of Development
Pre-development
A developer sees an opportunity in an existing building or vacant land and tests possible ideas for development to determine if they should commit.
Design
The architect, along with engineers and contractors, collaborate with the developer to create a meaningful plan for construction.
Construction
The general contractor physically brings the design of the architect and engineers to life.
Leasing
The development is promoted to potential tenants who may be interested in leasing or purchasing available units.
Management
A property-management team manages the on-going daily operations of the development and the tenants.
Refinance
The owner may choose to re-finance or sell the developed property.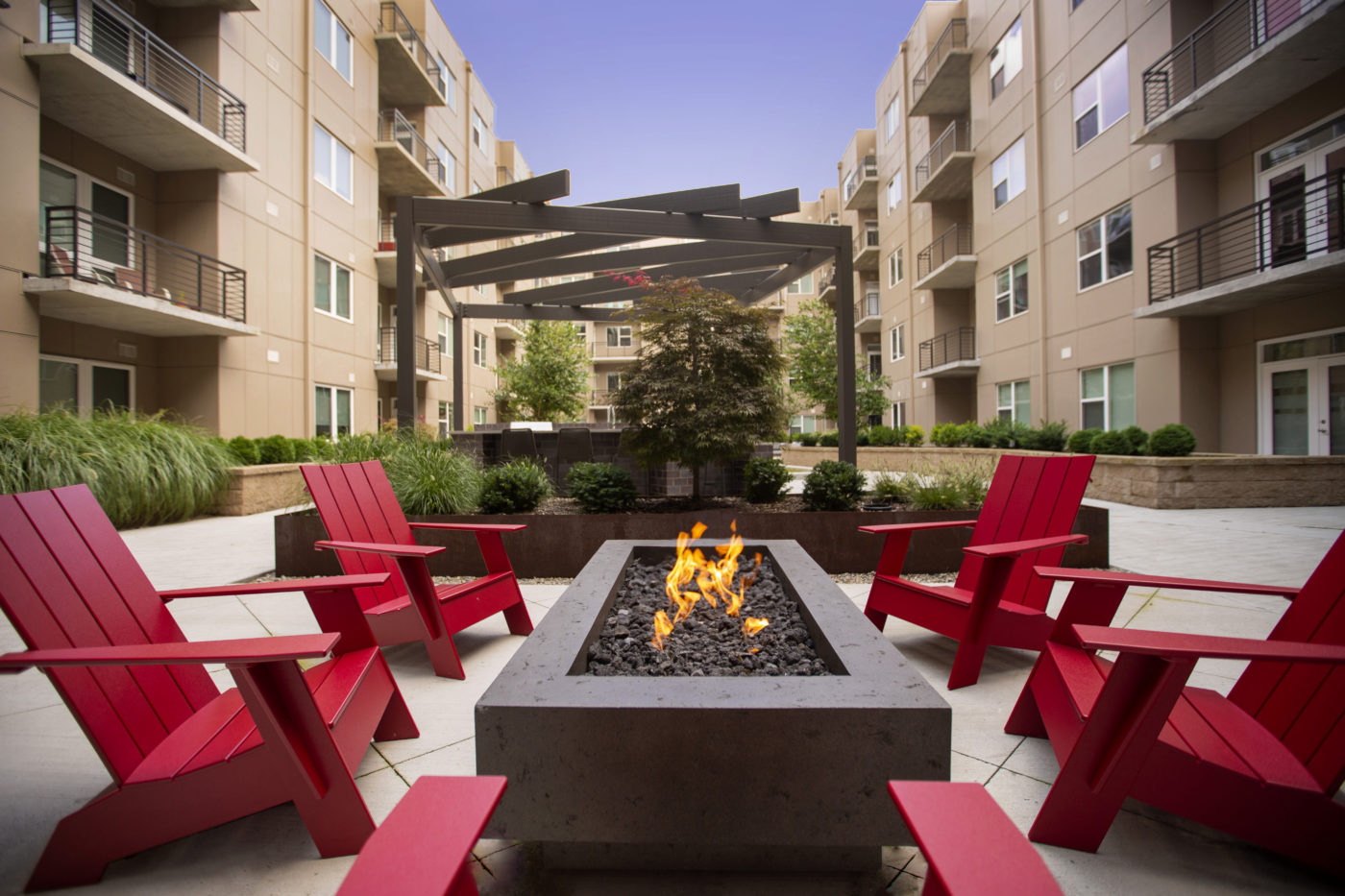 The courtyard offers residents a place to relax, grill and play.
Units feature modern design, city views and high-end appliances and finishes.
History: The Boulevard site had a past life as a Howard Johnson Motor Lodge built by Max M. Fisher in 1966. In 1997, the building was demolished to serve as a surface parking lot, which it remained until The Boulevard's ground breaking in 2016.
Community Engagement: A series of community meetings were conducted throughout the city approval process with The Boulevard being of the first projects to commit to providing 20% affordable units at 80% AMI as part of ACT 210. Moreover, working closely with Henry Ford Health Services, the project was incorporated into their campus master planning efforts.
Design Excellence: The Boulevard fills a critical void along West Grand Boulevard, engaging with the sidewalk of the boulevard in a manner that is appropriate for its urban context. Parking is strategically tucked away and out of sight. Residential unit floor plans were a large focus of the design effort with affordable units intentionally spread across all unit types.
In the Neighborhood: Fisher Building, Fisher Theatre, New Center One, Cadillac Place, Henry Ford Hospital, Detroit Pistons Practice Facility, 6001 Cass, 7300 Woodward, Hotel St. Regis, Motown Museum, College for Creative Studies, Wayne State University, Detroit Medical Center, Orangetheory Fitness, Beyond Juice, Comerica Bank
Transit: Bus #016, 080, 089; Q-line Station: Grand Boulevard; MoGo Station: Second Ave & W Grand Blvd; MoGo Station: Henry Ford Hospital